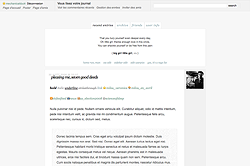 image | live
layout:a prisoner of history
style: flexible squares
accounts: Basic, Paid, and Sponsored
features:custom comment pages, mini icons, topbar
browsers: IE8, FF, Safari, Chrome

installation
01. Choose Journal Style

Select "Greys" Flexible Squares layout in "Select a New Theme"

02. Choose a Page Setup

i. Set Advertisement display to Horizontal or Between Entries
ii. Select 2 Column (sidebar on right) or 2 Column (sidebar on left).

03. Style

Change the "Background color of the outer table" to #FFFFFF.

04. Custom CSS

Ensure Use layout's stylesheet(s) is set to no

05.

Paste code into the Custom Stylesheet box.






notes
credit
mini icons by Pinvoke.
safe keeping

Upload images to your own server to be safe. Tinypic does delete its images after a while.

editing

♚ As per usual, feel free to add your own header/ edit bloody anything you want to.


F.A.Q.

If you have problems with a layout, please post them at the FAQ. I unfortunately I cannot help with stylistic edits, but as I said before, go nuts doing so.

oh, and yeah:

Nothing I can think of at the moment.